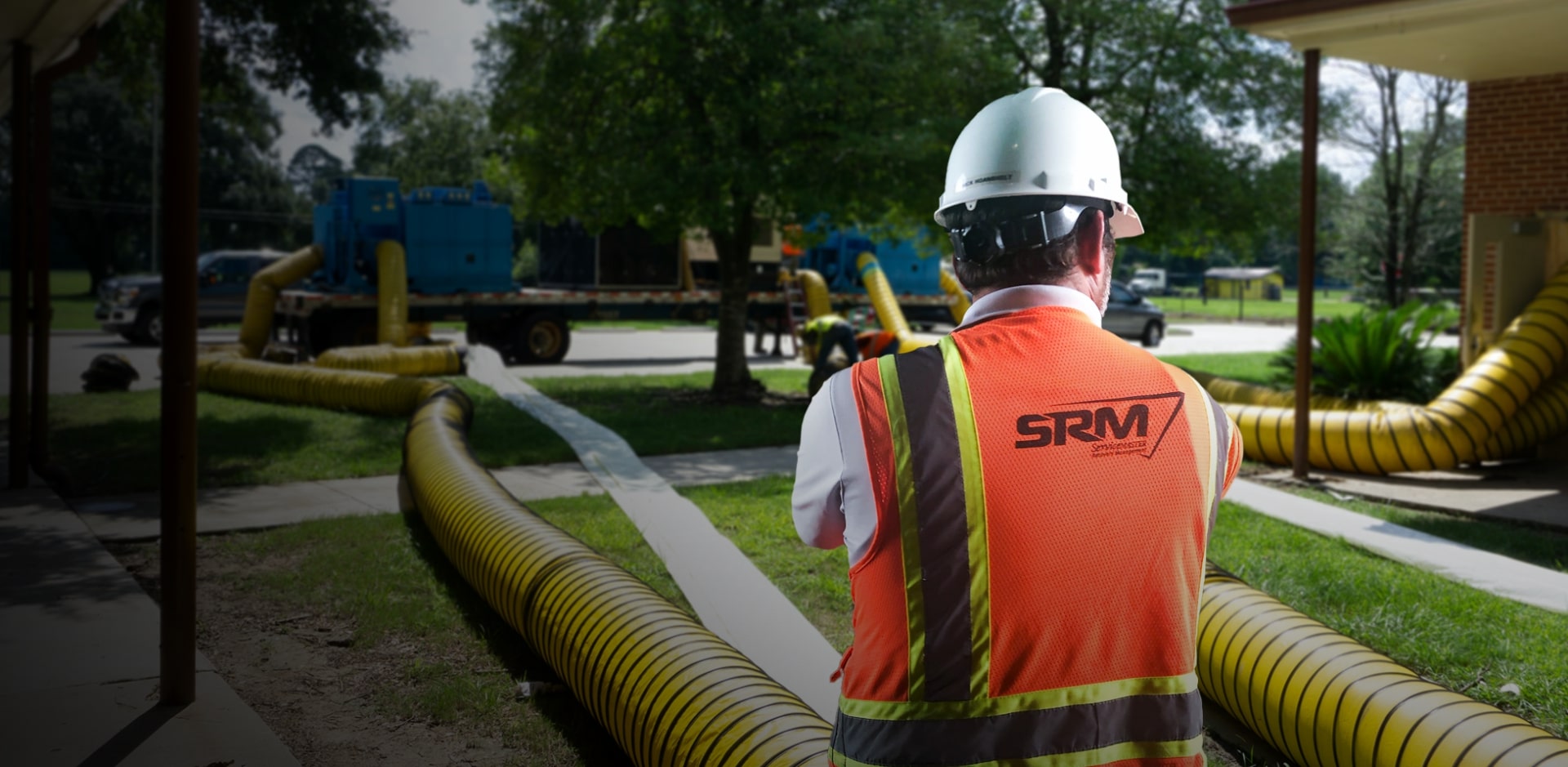 When Disaster Strikes
Make ServiceMaster
Recovery Management
Your First Call
Get Help Now
Disaster Restoration Services For Businesses & Commercial Buildings
Recovery Management Services
Providing the Sole Proactive Solution for Disaster Restoration
If your organization has experienced damage or downtime due to a storm, fire, flood, or other unforeseen event, ServiceMaster Recovery Management offers a comprehensive solution for disasters of all sizes. Our goal is to get your business back up and running as soon as possible using advanced processes and industry-leading technology. Additionally, we can help you prepare for future events through our planning services.
With over 70 years of experience in Canada and backed by a nationally respected brand, we have the resources and expertise to assist organizations of all sizes with professionalism and respect for their property and belongings. At SRM, we stand out from our industry competitors by providing over 400 commercial first response locations across North America to our national and international customers.
Each location offers customized services, rapid response times, and effective procedures to ensure your business receives the assistance it needs promptly and efficiently. We are committed to being there for you when you need us the most.
SRM aids in your recovery while assisting you in preparing for the future.
Helping People Like You Get Back to Business
"ServiceMaster is the best restoration company whether residential or commercial. I have used them in both areas and would only recommend using them. professional, polite, informative, outstanding to deal with."

- Gus Rettschlag, Senior Facilities Management Supervisor, Honeywell Advanced Systems

"They were all extremely polite, efficient and professional workers and we were very pleased with the service. We were well informed prior to their arrival and kept being informed throughout the process. This communication was imperative given the chaotic c"

- Dale Quinnell, Sales Representative, Maple Hills Housing Complex

"

For over three years, I have relied upon Service Master for almost every emergency that has occurred in our retail branch network of over 1000 locations, across Canada.

Whether it be a flood, fire, vehicle impact or any other threat to the safety "

- Saul Jacob, Project Manager, The Bank of Nova Scotia
See More Testimonials
ANY DAMAGE, OF ANY SCOPE, AT ANY TIME
ServiceMaster Recovery Management is equipped to handle any commercial disaster situation. With our years of experience, we have successfully helped numerous businesses recover from disasters while also minimizing their losses. Our team has national connections and access to limited materials in disaster areas, so we can respond quickly and effectively to any major disaster.
Our services have been tailored to fit the needs of various industries, including healthcare facilities, manufacturing plants, educational institutions, and office buildings. Our restoration experts will customize their approach to meet the specific needs of your property, regardless of its size or complexity. Experiencing damage to your business can be overwhelming and uncertain. However, you can rest easy knowing that SRM is always available to help.
We offer 24/7/365 availability and will respond to your call immediately. We will guide you through every step of the process and ensure you return to normalcy as quickly and seamlessly as possible. Trust SRM to be your reliable partner in restoring your business.
Expertise That's Always There For You
A STRONG OFFENSE IS THE BEST DEFENSE
Preparing for a disaster is essential in minimizing the impact on your business. At ServiceMaster Recovery Management, we understand that disasters can happen anytime and that being prepared is critical. That's why we offer a comprehensive pre-disaster program that takes a proactive disaster preparation and restoration approach.
Our team will work with you to create a customized disaster preparedness plan that addresses your specific needs. We offer advanced weather alerts and can strategically stage equipment in your area when severe weather is expected. With our extensive resources, including using drones to assess damage and identify potential hazards, you can have peace of mind knowing that you're partnering with a company that prioritizes preparedness. At SRM, we're dedicated to revolutionizing how property owners and managers approach disaster restoration.
Contact us to learn about how we can help you protect your business before a disaster strikes.
Restoring your property completely after unexpected disasters with comprehensive solutions
ServiceMaster Recovery Management is a top-tier provider of emergency restoration services in the industry. Our highly trained team of professionals is available 24/7 to respond to commercial or residential disasters, ranging from fires and floods to extreme weather events. We have years of experience and cutting-edge technology to efficiently restore your property and get you back on track quickly.
Our commercial restoration services are specifically tailored to meet the needs of businesses that have been severely impacted by unexpected disasters such as fire damage, water damage, and mould growth caused by flooding. We take care of all aspects of the cleanup process, including smoke remediation, debris removal, structural repairs, and more, while working closely with insurance carriers every step of the way.
SRM guarantees proactive measures to keep you ahead.
We have the resources to
Respond. Restore. Recover.
Get Help Now