ABOUT SRM
Partner with Us for Dedicated Commercial Disaster Restoration Services
For over two decades, ServiceMaster Recovery Management (SRM) has been a trusted partner for North American commercial property owners and managers, helping them recover from devastating disasters. We have stood alongside our clients in the aftermath of significant events like the 9/11 terrorist attacks and Hurricane Fiona, providing support and restoration services. With a strong presence in Canada and the US, our network of 400 locations ensures that we are always within reach when the unexpected strikes.
·SRM specializes in commercial disaster restoration services, catering to diverse industries and addressing large-scale and small-scale challenges. Our dedicated team is driven by a single objective: to be there for business owners and managers, delivering fast, reliable, and effective recovery solutions.
We proudly serve clients across various industries, including:
Our SRM team has also aided religious institutions in restoration efforts, enabling them to welcome their congregants again. Additionally, we have assisted senior living centres in ensuring the safety and well-being of their residents after calamitous incidents. If you possess commercial properties lacking comprehensive recovery plans, rest assured that we have the expertise to tailor a program that suits your requirements.
If you are prepared to safeguard your commercial properties from unforeseen circumstances, seek immediate assistance from our team of recovery management services.
Helping People
Like You Get Back
to Business
"

For over three years, I have relied upon Service Master for almost every emergency that has occurred in our retail branch network of over 1000 locations, across Canada.

Whether it be a flood, fire, vehicle impact or any other threat to the safety "

- Saul Jacob, Project Manager, The Bank of Nova Scotia

"ServiceMaster is the best restoration company whether residential or commercial. I have used them in both areas and would only recommend using them. professional, polite, informative, outstanding to deal with."

- Gus Rettschlag, Senior Facilities Management Supervisor, Honeywell Advanced Systems

"They were all extremely polite, efficient and professional workers and we were very pleased with the service. We were well informed prior to their arrival and kept being informed throughout the process. This communication was imperative given the chaotic c"

- Dale Quinnell, Sales Representative, Maple Hills Housing Complex
See More Testimonials
Ready When
Disaster Strikes
Why SRM
AN INDUSTRY LEADER
While we may not be the only commercial disaster restoration company, SRM is confident that we surpass all others. Our rationale is straightforward: we are the only recovery management service that adopts a genuinely proactive approach to disaster preparedness and restoration for disasters and storm damage. From our meticulous pre-loss planning to strategic equipment staging and comprehensive post-loss damage assessment, we are committed to ensuring your recovery is swift, thorough, and successful. Numerous businesses fail to recover from major disasters due to the absence of a partner like us. SRM equips you for the worst and assists you in recovering from the unimaginable.
EXPLORE OUR DISASTER RECOVERY MANAGEMENT SERVICES!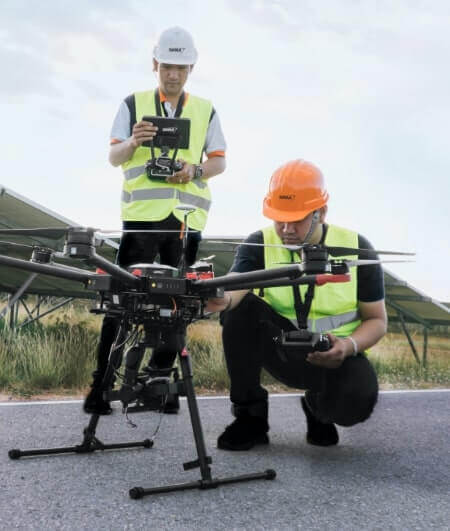 Learn more about us
Making the right choice for your recovery management services is a significant decision. It involves entrusting your business's future and your employees' well-being to a company responsible for safeguarding you from unforeseen events. This responsibility is immense, and at SRM, we approach it with the utmost seriousness. As a proud member of a nationally respected brand with over 70 years of experience, we have developed highly effective pre-planning and post-recovery programs tailored to your properties' specific needs.
When selecting a recovery management service company, thorough research is crucial, and SRM is committed to providing transparency and comprehensive information about our company. We encourage you to explore our website to gain insight into our identity, services, and why we are the top choice for commercial disaster restoration. Once you have familiarized yourself with SRM, contact our office to commence your journey with us.
ServiceMaster Recovery Management operates around the clock, ensuring support that spans across the globe. With our 24/7 availability, 365 days a year, we are here for you whenever and wherever you require assistance. No matter what challenges life presents, we are committed to standing by your side. Together, we will overcome any obstacle that comes our way.