LARGE LOSS JOB REPORTING
At every step, we ensure clear and concise communication that is transparent.
Save time and avoid confusion with the best large loss reporting available. At ServiceMaster Recovery Management (SRM), we understand that successful commercial restoration requires more than just having the right equipment and capabilities. Clear communication from the beginning of the project to the final invoice and completion of the job is essential for success. That's why we have invested significant time and resources into developing the best project communication and large loss reporting available.
Our comprehensive reporting includes customized client portals that provide all relevant documents and information, project documentation, and daily project manager reports. With these tools, clients can easily access and track progress throughout the restoration, eliminating confusion, saving time, and minimizing potential discrepancies. Our commitment to effective reporting and communication has resulted in the industry's most reliable and efficient large loss reporting.
​We ensure comprehensive coverage of all aspects.
Large loss restoration projects require a high level of coordination, with many different elements that need to be carefully managed and documented. At ServiceMaster Recovery Management (SRM), we understand that effective communication is essential to ensuring that all stakeholders are on the same page throughout the restoration process. That's why we've developed a comprehensive yet user-friendly communication system to keep everyone informed and eliminate confusion.
Our system provides timely updates on all aspects of the project, with clear documentation and communication at every step. We use standardized reporting protocols to ensure that you receive consistent information in the same format, regardless of the number of properties involved. This streamlined approach saves time and reduces the potential for errors or misunderstandings, helping to ensure a successful outcome for your restoration project.
Partner with us today and get ready to face the worst while having the support to bounce back from unforeseen challenges with SRM.
Helping People
Like You Get Back
to Business
"The administrative staff and the clean up team were absolutely phenomenal.
they were knowledgeable, friendly and fast. Helped is out a very nasty situation, quickly and they left the room in a better state then it was before."

- Lena Sborlini, Property Manager Administrator, Compten Management Ltd.

"Excellent response time. Staff was very helpful and listened to our concerns and addressed and answered questions."

- Richard Thompson, Property and Facilities Manager, City of Ottawa

"We can't thank you enough for what you have done for us. The 2013 Calgary Stampede would not have happened without SRM. We take care of our community and now you are a permanent part of that community."

- Tracy Reid, Director, Calgary Stampede
See More Testimonials
Expertise That's Always There For You
Complete Responsibility
In creating our large loss reporting system, we understood the importance of including multiple stakeholders and establishing a transparent communication chain. Other contractors often need to pay more attention to this crucial aspect, resulting in confusion and disruptions throughout the restoration process. Misunderstood project scopes, misinformed decisions, and incomplete signoffs can all lead to costly delays and errors. At SRM, we prioritize clear and direct communication while providing redundant documentation to ensure everyone involved is on the same page.
Our communication process is tailored to each client's needs, including communication chain requirements, signoffs, and dependencies based on loss size. By streamlining communication and documentation, we save you valuable time and eliminate the need to chase down information or relay it to other stakeholders. Additionally, if questions arise, our system allows easy access to past communication to obtain the necessary information quickly. Our commitment to developing the most effective communication process in the industry is unmatched by any other restoration provider.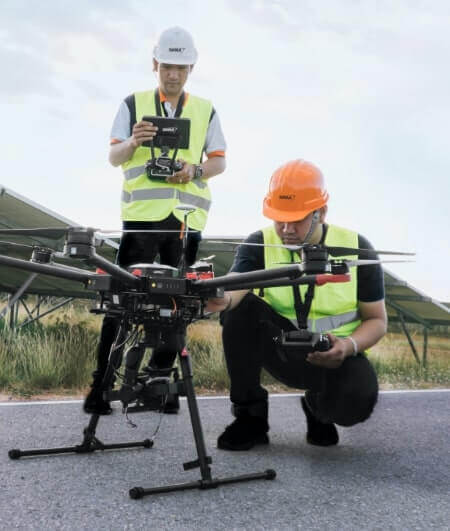 Our Thorough Assessment of Damages
Reduce further damage to your property after a storm by securing your facility, starting mitigation promptly based on accurate data, and utilizing specialized equipment as necessary. Our comprehensive post-storm damage assessments help minimize damage by identifying areas that require securing to prevent additional damage, such as compromised roofs and broken windows. We recommend practical solutions for securing these areas to limit further damage.
Moreover, we can immediately begin mitigation by utilizing equipment from our advanced staging areas tailored to your needs. This equipment includes mitigation tools such as extraction units and dehumidifiers and support equipment such as temporary power, lighting, hand washing stations, portable restrooms, and fuel. These items are crucial for restoring your property and doing so in the quickest, most efficient manner possible while safeguarding your facility from additional harm.
Driven by Technology and Data
Our post-storm assessment data can help you develop a comprehensive restoration plan and validate the loss for third-party stakeholders, enabling you to get back to business faster. After a storm, it is critical to develop a restoration plan quickly. Our drone-assisted assessments provide a unique perspective that allows us to inspect your facility's roof integrity, detect potential problem areas, and identify any safety hazards. Additionally, we conduct post-storm moisture mapping to identify invisible moisture areas.
With this increased information, we can develop the most effective restoration plan and validate the loss for third-party stakeholders, including insurance representatives, adjusters, and consultants. By presenting data and visual evidence, conversations become more productive and objective.
Finally, our post-storm damage assessments and accompanying information help facilitate client-side decisions, such as relocating residents or reallocating internal resources within the facility. The more informed our clients are, the better equipped they are to make informed decisions.
Take the first step today with SRM by your side to protect your properties tomorrow and be ready for the unexpected at all times.