Commercial Water Damage Restoration Services
Leading the industry in commercial flood clean-up services throughout North America
Water damage can cause a significant amount of harm to commercial facilities, and it is one of the most common causes of property damage. Leaking roofs, hurricanes, plumbing problems, and sprinkler failures are some of the many ways in which water can damage a property. At ServiceMaster Recovery Management (SRM), our team of experts has dealt with various types of water damage, from burst pipes to sewer system backups, and we are equipped to handle any water-related disaster, no matter the size or severity.
We understand that water damage can lead to multiple types of harm, some of which are not visible to the naked eye. For instance, a burst pipe can damage floors and cause significant harm inside walls and other areas. This is why it is crucial to call SRM immediately when you notice any signs of trouble. Our team of experts has the knowledge and expertise to get your business up and running as soon as possible.
If your business has been affected by flooding, contact our team for assistance Immediately. Our experienced technicians specialize in commercial flood cleanup services and are ready to help you restore your business. Contact us today.
ACTING QUICKLY IS CRUCIAL
In the event of water damage, acting quickly is crucial. Delaying the restoration process can lead to further damage to your commercial property, such as floors, upholstery, carpets, electronics, and important documents. Furthermore, delays can cause mould growth, which can cause health issues.
ServiceMaster Recovery Management's extensive restoration services include more than just water extraction. We also offer content packing, deodorization, structural repairs, and property protection by boarding up and tarping to prevent further damage, vandalism or trespassing.
WHY EXPERIENCE MATTERS
Over the years, we have seen thousands of commercial floods and the damage they can cause to commercial properties. Our team has been on site for some of Canada's worst catastrophes including: 2013 Toronto and Alberta floods, Hurricane Dorian, Ottawa Derecho, Hurricane Fiona and more. We have completed a wide range of restorations, some of which were the most complex we've ever encountered.
The restoration services we provide for storm damage encompass:
Property inspection and assessment
Water removal
Anti-microbial application
Drying, dehumidifying, air movement, and monitoring
Cleaning, odour removal, and sanitizing
Damage repair and construction
ServiceMaster Recovery Management is a leading water damage restoration company that offers our valued customers fast, reliable, and professional services. With years of experience in the restoration industry, we specialize in providing top-quality water and fire damage restoration services, as well as flood and smoke damage restoration.
Our team of highly trained and experienced technicians is dedicated to helping you recover from any disaster that may affect your business. At ServiceMaster Recovery Management, we use the latest technology and techniques to restore your home or business quickly and efficiently.
Our Commercial Flood Restoration Service is the result of decades of experience, designed to go beyond just drying out your property. We aim to get your business back up and running as quickly as possible, with minimal disruption.
DON'T HESITATE TO CONTACT SRM AT THE FIRST SIGN OF DAMAGE: (855) 642-2444.
Helping People
Like You Get Back
to Business
"Excellent response time. Staff was very helpful and listened to our concerns and addressed and answered questions."

- Richard Thompson, Property and Facilities Manager, City of Ottawa

"The administrative staff and the clean up team were absolutely phenomenal.
they were knowledgeable, friendly and fast. Helped is out a very nasty situation, quickly and they left the room in a better state then it was before."

- Lena Sborlini, Property Manager Administrator, Compten Management Ltd.

"We can't thank you enough for what you have done for us. The 2013 Calgary Stampede would not have happened without SRM. We take care of our community and now you are a permanent part of that community."

- Tracy Reid, Director, Calgary Stampede
See More Testimonials
Expertise That's Always There For You
OUR COMMERCIAL FLOOD DAMAGE CLEANUP SERVICES
If a flood has damaged your property, you know firsthand the damage it can cause. But acting can be as simple as calling our commercial water damage restoration team. We understand the stress and trauma of a flood and are here to help you minimize the damage and financial impact on your business. Our experienced team has the resources to respond quickly and effectively, handling all aspects of your restoration process and saving you time, money, and stress.
Our comprehensive process includes the following:
Water extraction and mitigation
Structural drying
Property security and stabilization
Content restorations
Reconstruction
SRM can help you with these and any other service required to ensure a fast, successful restoration. Reach out to us today to get started.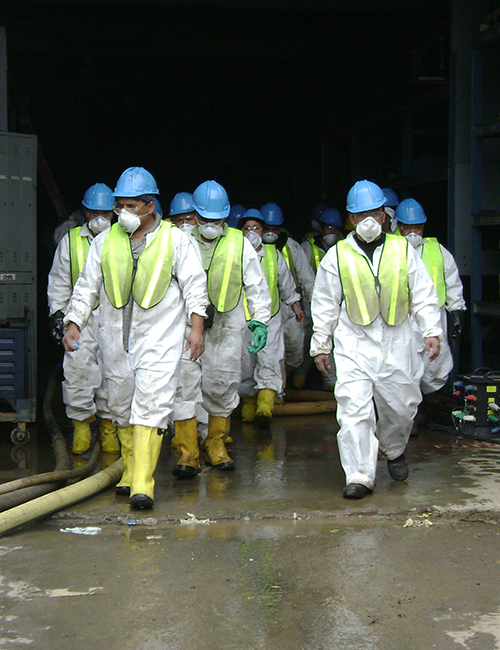 Restoration of Commercial Roof Damage Caused by Leaks, Failures, and Storms
Commercial property owners know that roof leaks can cause extensive damage to their business, jeopardizing its structure and forcing them to close until repairs are completed. Whether caused by severe weather, hurricanes, or wind damage, responding quickly is crucial.
With ServiceMaster Recovery Management, you can rest assured that our skilled team will act quickly to start the restoration process. Equipped with the latest technology and tools, we can quickly diagnose the damage and get your business open again with minimal downtime. We use advanced techniques such as thermal imaging and moisture mapping to identify all potential areas of water damage and address them at their source. This technology lets us spot damages that the naked eye might not detect.
Furthermore, our technicians can pinpoint the areas affected, reducing the need for unnecessary removal of materials such as flooring or drywall for drying.
At SRM, we offer 24-hour emergency flood and water damage services throughout the year. We understand the importance of time in ensuring successful restoration, which is why we are always ready to take your call and get to work. Our technicians are certified by the Institute of Inspection, Cleaning, and Restoration Certification (IICRC) in Applied Structural Drying, meaning that we employ the most effective and timely methods to dry your building and everything inside it. You can rely on our tailored recovery solutions for your unique property requirements.
We are ready to help you at any time. Call us 24/7/365 at (855) 642-2444 to report a loss and our team will assist you.