Pre-Disaster Program
Partner with SRM for your Commercial Damage Restoration Needs
At ServiceMaster Recovery Management (SRM), we understand that prevention is key when protecting your commercial property. While many restoration companies are only available to provide repair services after a disaster has already occurred, proactive planning is the best way to minimize the extent of damages when unexpected events happen. That's why we offer the industry's most comprehensive Pre-Disaster Program to help businesses prepare for potential emergencies before they occur.
Our SRM Large Loss program provides businesses with access to a team of experienced professionals who specialize in assessing risks and creating customized plans that address potential disasters before they happen. We work closely with our clients to identify vulnerabilities and develop strategies to minimize the impact of a disaster, taking into account factors such as the size, location, and assets of each company. This approach ensures that our clients have detailed protocols they can follow in case of a catastrophic event such as severe weather or fire damage.
In addition to our pre-loss planning services, we offer access to our Emergency Response Team, available 24/7 to provide immediate assistance when disasters strike. With SRM, you can have peace of mind knowing you'll always have the support and resources to protect your business from potential losses.
Our Pre-Disaster Program is unique in its approach, tailored to the specific needs of each property and developed through decades of experience and feedback from our clients and industry leaders. We focus on developing plans that help minimize risk, limit claim severity, and reduce interruptions to your business. At SRM, we are dedicated to investing in the future and providing unrivalled value to our commercial clients before, during, and after a property loss. Trust us to revolutionize how you approach disaster preparedness for your commercial property.
By prioritizing prevention and mitigation, our pre-disaster program is the most effective approach to guaranteeing your business is ready for any potential disaster.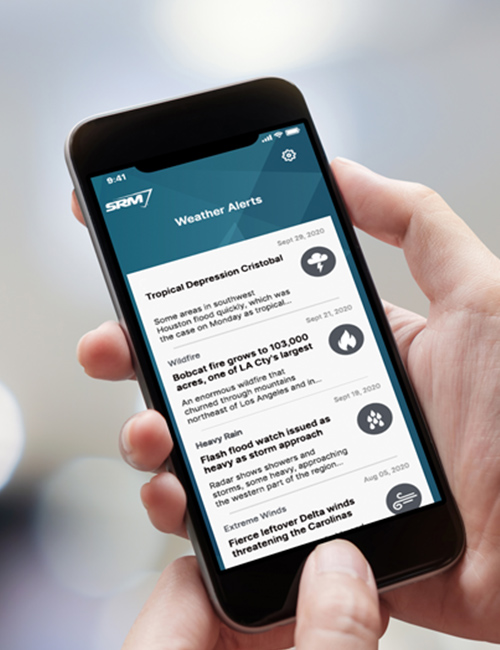 WHAT SETS OUR PROGRAM APART
At SRM, we understand that your business deserves more than just a standard response program. That's why we offer a proactive partnership approach, providing customized planning and advanced processes to help prepare your business for any disaster. Our innovative program is designed to handle losses of all sizes, with the necessary equipment and personnel to get you up and running as quickly as possible.
Here's what sets us apart:
True Partnership Program – We work closely with our clients to understand their needs, providing customized weather notifications, power and fuel procurement, and advanced resource and equipment staging.
Scalable "Reach-Back" Capabilities – With over 400 locations across North America, we can quickly respond to any disaster, no matter how large.
Centralized Process – Our many years of experience have allowed us to develop a process specifically tailored to the needs of our commercial property clients.
Our program is the industry's highest priority response program, and it's offered free of charge to our clients. By partnering with us, you gain a valuable ally in protecting your business from the unexpected. Don't settle for a standard response program – choose SRM and experience the difference.
Expertise That's Always There For You
One solution for any size loss
While significant disasters can concern businesses, it's important to note that more minor incidents can also have substantial impacts. Studies show that 84% of commercial property losses are caused by smaller-scale events such as broken sprinkler systems, small kitchen fires, and burst pipes.
At ServiceMaster Recovery Management (SRM), we understand the importance of addressing these minor incidents quickly and efficiently to minimize the disruption to your business. Unlike some of our competitors who may either overreact or underreact to these types of events, our experienced first-response team is equipped to handle losses of all sizes and scopes with the appropriate level of response, helping to keep costs under control while ensuring that your business is back up and running as soon as possible.
To learn more about the industry's best pre-loss program, reach out to our commercial damage restoration team today at (855) 642-2444.