POST-STORM DAMAGE ASSESSMENT
Our team will get to work promptly.
Reduce expenses and save valuable time by minimizing property damage, starting the restoration process more quickly, and making informed decisions with our post-storm damage assessments. Our assessments provide the most comprehensive overview of your loss and incorporate advanced technology to deliver more data than any other post-storm assessment.
The SRM Advanced Recovery Program places significant emphasis on effective planning and preparation for potential property damages. However, we understand that even the most well-executed preparations can be inadequate without an efficient post-storm response. For this reason, we have developed a comprehensive response plan that includes the most extensive post-storm assessments in the industry. Our post-storm assessments help clients minimize damage, expedite the development of restoration plans, and can also support client-side decision-making.
Our skilled scout teams are dispatched to evaluate the damage to client properties. These teams utilize the latest cutting-edge technology, such as drones, 360° cameras, and infrared moisture mapping, to provide the most comprehensive post-storm assessment possible. We then communicate directly with our clients to discuss the data and recovery plans as required. These discussions often provide valuable support for client-side decision-making, such as determining the possibility of residents returning to the property or arranging temporary workspaces. No other restoration contractor offers this level of detail in post-storm damage assessments.
By securing your facility against further damage, beginning mitigation based on actual data, and mobilizing specialized equipment as needed, we work to minimize damage.
Helping People
Like You Get Back
to Business
"

For over three years, I have relied upon Service Master for almost every emergency that has occurred in our retail branch network of over 1000 locations, across Canada.

Whether it be a flood, fire, vehicle impact or any other threat to the safety "

- Saul Jacob, Project Manager, The Bank of Nova Scotia

"Excellent response time. Staff was very helpful and listened to our concerns and addressed and answered questions."

- Richard Thompson, Property and Facilities Manager, City of Ottawa

"ServiceMaster is the best restoration company whether residential or commercial. I have used them in both areas and would only recommend using them. professional, polite, informative, outstanding to deal with."

- Gus Rettschlag, Senior Facilities Management Supervisor, Honeywell Advanced Systems
See More Testimonials
Expertise That's Always There For You
Efficiently Reopening Your Business
All of these benefits are made possible by our comprehensive post-storm damage assessments, which help minimize damage by providing essential information on securing the facility against additional harm. Storm damage can leave a property vulnerable to the elements, which is why our assessments include an evaluation of compromised areas such as roofs and windows. We provide recommendations on effectively securing these areas to limit further damage, and we can begin mitigation immediately based on this information.
Unlike other contractors who may blindly move equipment to your facility, costing you unnecessary expenses, SRM can pull equipment from our advanced staging areas specifically tailored to your needs. Our equipment includes mitigation tools such as extraction units and dehumidifiers and support equipment like temporary power, lighting, hand washing stations, portable restrooms, and fuel. These items are essential for restoring your property most efficiently and effectively as possible while protecting your facility from further damage.
Get back in business faster by using our post-storm assessment data to develop an effective restoration plan and validating the loss for third-party stakeholders.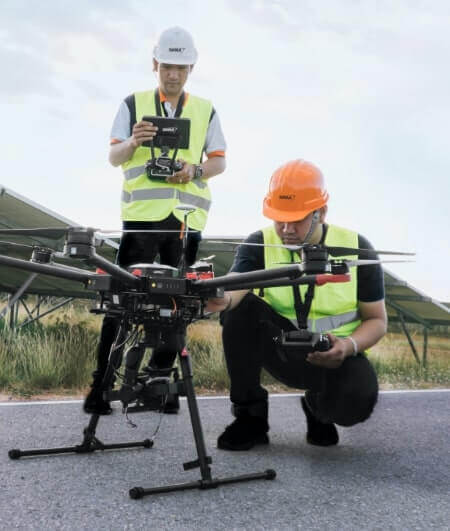 Thorough and Rapid Evaluations
When your facility suffers storm damage, time is of the essence in developing an effective restoration plan. At SRM, we utilize drone-assisted assessments to provide a unique perspective, inspecting your facility's roof integrity, identifying compromised areas, and pinpointing potential safety hazards. Additionally, we conduct post-storm moisture mapping, detecting moisture in places invisible to the naked eye.
This level of detail allows us to develop the most effective restoration plan and provide visual evidence to validate the loss for third-party stakeholders, such as insurance representatives, adjusters, and consultants. By facilitating productive conversations based on data, our clients can make more confident decisions regarding restoring their property. Our post-storm damage assessments have also been found to help with client-side decisions, including relocating residents or allocating internal resources. At SRM, informed clients are better equipped to make the right decisions for their facility.
Partner with us today and get prepared for the worst while being equipped to recover from unexpected challenges with SRM.