TRUE FULL-SERVICE PARTNER
Providing Support Before, During, and After a Disaster Strikes
When your commercial property suffers damage from any cause, whether it's a severe weather event or a plumbing issue, you don't have the time to worry about whom to call or what to do next. You need a comprehensive partner, a company that can handle all aspects of your recovery and restoration. ServiceMaster Recovery Management (SRM) is that trusted partner. While other companies may claim full service, they often need to improve on that promise by only assisting with fundamental reconstruction and mitigation. But disasters can leave your property with various needs that other companies may not be equipped to handle, such as removing trees and debris, temporary power, and lighting. In short, they need to deliver the one-source solution that they advertise.
SRM is the true full-service provider of recovery management services you can rely on. We can help you save money by minimizing damages from delayed services and avoiding service premiums during high-demand periods. We start your restoration work earlier and always adhere to the pre-approved rate schedule.
HANDLING THE CHALLENGES OF YOUR RECOVERY
Restoration projects are complex, with many moving parts that must be managed appropriately. The success of these projects depends on properly handling all aspects of the recovery. Timing is also crucial to a successful restoration. Property damage is already stressful enough without the added frustration of having to contact various contractors to handle debris removal, temporary power, and other necessities.
SRM eliminates that stress by ensuring that every aspect of your recovery is handled. Our clients don't have to compete with others in their community for contractors during high-demand periods immediately following a major disaster. Others may have to pay a premium price for services due to the lack of availability during these events. With SRM, you can be confident that you and your property will receive complete and efficient care. Our one-source solution eliminates any confusion and inefficiency you may encounter elsewhere.
Helping People
Like You Get Back
to Business
"The administrative staff and the clean up team were absolutely phenomenal.
they were knowledgeable, friendly and fast. Helped is out a very nasty situation, quickly and they left the room in a better state then it was before."

- Lena Sborlini, Property Manager Administrator, Compten Management Ltd.

"They were all extremely polite, efficient and professional workers and we were very pleased with the service. We were well informed prior to their arrival and kept being informed throughout the process. This communication was imperative given the chaotic c"

- Dale Quinnell, Sales Representative, Maple Hills Housing Complex

"Excellent response time. Staff was very helpful and listened to our concerns and addressed and answered questions."

- Richard Thompson, Property and Facilities Manager, City of Ottawa
See More Testimonials
Expertise That's Always There For You
ONE STOP MANAGEMENT SOURCE
Effective communication is crucial for a successful restoration project. No longer will you have to struggle to locate the person you previously spoke with, be transferred endlessly, or explain your situation repeatedly. With SRM, you'll have a single point of contact for all aspects of your recovery. This will eliminate confusion and frustration on your part and increase our accountability since all services will work together toward a common goal. Additionally, this will eliminate any scheduling issues you may encounter when dealing with multiple companies, saving you time and resulting in a shorter recovery timeline.
PREVENT DELAYS WITH OUR PRE-LOSS AGREEMENT
When a disaster strikes, there is no time to waste. Prompt action can limit damage and reduce downtime. One issue that can cause delays with other companies is an incomplete pre-loss agreement. By partnering with SRM, you'll have the most comprehensive pre-loss agreement available to prevent this situation. These agreements have a history of delivering fewer delays than the agreements offered by our competitors.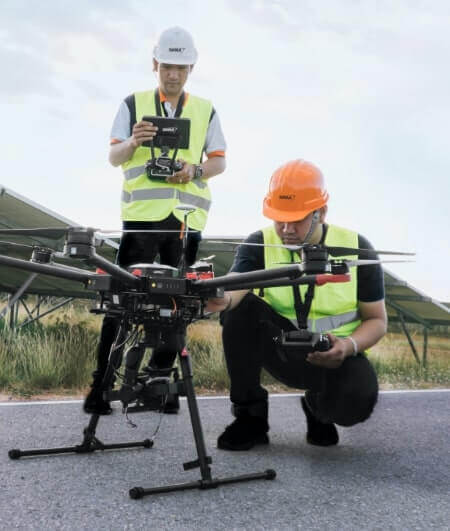 COMPREHENSIVE RECOVERY SOLUTIONS FOR EVERY STAGE
When selecting a partner for disaster recovery, it's crucial to scrutinize the details of your agreement. Unfortunately, many companies fail to include the essential services you require. A standard agreement provided by most of our competitors only covers the bare minimum, such as mitigation and sometimes reconstruction.
With SRM as your partner, you can be confident that our agreement will encompass every aspect of your restoration. In a disaster, there will be no ambiguity or uncertainty on either side. Instead, our team of commercial damage restoration experts will immediately begin addressing all of your needs. Our agreement even incorporates unexpected requirements arising from unforeseen events. In short, SRM provides the most all-inclusive pre-disaster program to ensure your facility receives complete attention.