Why SRM?
Our Recovery Management Services Set Us Apart as an Industry Leader
Life is full of surprises, and no matter how well-prepared you are, unexpected events can catch you off-guard. The same is true when it comes to owning or managing commercial facilities. Running a business can be a complicated affair, requiring adaptability to cope with unforeseen challenges that arise on a day-to-day basis. At ServiceMaster Recovery Management (SRM), we strive to be your trusted partner in safeguarding your commercial properties against adversity.
From natural calamities to malfunctioning sprinkler systems and everything in between, we are fully equipped to help you cope with major and minor losses. With our pre-loss planning and state-of-the-art equipment, SRM can help reduce the damage caused to your property when disasters strike. While we can't always predict what will happen, we can help you bounce back as quickly as possible once the worst is over.
CONTACT US NOW If you need emergency response services. Our experienced team is dedicated to providing timely and quality services when you need them the most. We offer a comprehensive range of services to help you start rebuilding, so reach out to us now to hire the SRM emergency response team.
What Makes SRM Different
When it comes to managing disasters and restoring commercial properties, you may find several options available to you. However, many provide only primary reconstruction and mitigation, which may need to be improved following a disaster. At ServiceMaster Recovery Management (SRM), we offer a complete and comprehensive solution to all your recovery needs, making us your full-service partner in a fast, safe, and effective recovery.
Our one-source solution can save you time, money, and hassle. We can take care of everything, from removing trees and debris to providing temporary power and lighting, all customized to your property's requirements.
Here are some ways we stand apart from other recovery management services:
Comprehensive pre-loss agreements – SRM can plan and understand all the requirements before an unexpected event. With our pre-loss agreements, we can respond proportionally to the situation, allowing us to get right to work and open your business faster.
Scalable network response – We recognize that more minor problems arise more frequently. Hence, we offer a scalable response system to handle everything from overflowing toilets to isolated fires. Unlike other companies, we respond proportionally, which saves you time and money.
Unparalleled resources – SRM is backed by a nationally respected brand with over 65 years of experience. Our network of over 400 locations nationwide ensures we are always nearby. We also have access to the most advanced tools and technology, which enables us to restore your property to its pre-loss state faster and more efficiently than our competitors.
Smartphone app – Our mobile app provides advanced weather notifications, the latest News and resources, and lets you quickly contact our emergency call centre to report a property loss.
Equipment staging – We stage our equipment and resources near your property when dangerous weather is imminent so that we can respond quickly as soon as any danger has subsided. This allows us to get right to work and avoid problems such as closed roads or limited access to necessary resources.
Post-storm damage assessment – Before starting your recovery, we'll thoroughly assess your property to determine the extent of the damages. We can also tarp and board up areas to protect your property from further damage, ensuring a comprehensive recovery that eliminates the need to fix future problems.
Centralized management – If you have multiple facilities nationwide, managing them all can be challenging with numerous restoration partners. With SRM, we offer centralized management that eliminates the need to coordinate, interpret, and schedule multiple vendors nationwide, minimizing confusion and maximizing consistency.
We can customize our program to meet your property's specific requirements, making us the industry leader in commercial disaster restoration services. We'll discuss your needs and requirements during your consultation, ensuring a seamless recovery process.
ServiceMaster Recovery Management is your top-tier choice for large loss and emergency response. Our experienced team of professionals is passionate about providing excellent service to our clients in their time of need, providing comprehensive solutions that cover all aspects of disaster recovery.
We use advanced techniques such as thermal imaging technology, moisture mapping systems, and state-of-the-art drying equipment to ensure optimal results while minimizing disruption throughout your facility during remediation efforts, which can save you money long-term. We understand how important it is for businesses impacted by significant losses or disasters to get back up and running safely and fast. Our nationwide network allows us to respond quickly and effectively whenever and wherever disasters strike across North America.
To discover more about our commercial disaster restoration services or report a loss, please contact us at (855) 642-2444.
Helping People
Like You Get Back
to Business
"The administrative staff and the clean up team were absolutely phenomenal.
they were knowledgeable, friendly and fast. Helped is out a very nasty situation, quickly and they left the room in a better state then it was before."

- Lena Sborlini, Property Manager Administrator, Compten Management Ltd.

"They were all extremely polite, efficient and professional workers and we were very pleased with the service. We were well informed prior to their arrival and kept being informed throughout the process. This communication was imperative given the chaotic c"

- Dale Quinnell, Sales Representative, Maple Hills Housing Complex

"Excellent response time. Staff was very helpful and listened to our concerns and addressed and answered questions."

- Richard Thompson, Property and Facilities Manager, City of Ottawa
See More Testimonials
Expertise That's Always There For You
OUR COMPREHENSIVE COMMERCIAL SERVICES
Your business can be severely impacted by disasters, such as fires that cause widespread smoke and soot damage, or floods that can result in mould infestations long after the water has receded. At SRM, we offer comprehensive restoration services that address every aspect of damage to your property. Our skilled and experienced team knows where to look and what to look for to uncover every type of damage your property may have endured.
Some of the services we provide include:
Water damage restoration
Smoke and fire damage restoration
Debris removal
Water extraction
Dehumidification and moisture control
Mould remediation
Odour control
Emergency response
Pre-loss planning
These are some of the more common services our clients require after a disaster. The recovery process may also involve corrosion control, machinery restoration, document recovery, and much more. You can trust us to be your one-stop solution for a complete recovery. We can discuss all of these services with you during your consultation.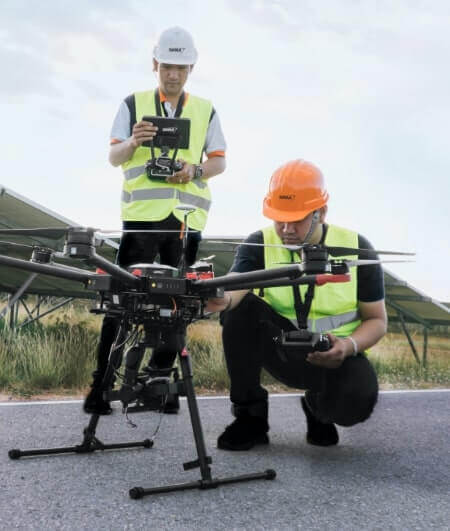 CONTACT US ANYTIME, ANYWHERE FOR YOUR RESTORATION NEEDS
At SRM, we understand that disasters take time for business hours to occur. That's why we offer around-the-clock availability, 365 days a year, to ensure that we are always here for you when you need us the most. With over 400 locations, we are always nearby to provide prompt assistance. Our mobile app offers one-click access to our team, and our centralized management approach means we can easily handle all your needs for your properties.
Contact SRM today and Get Help Now for your commercial property!