Storm Damage Restoration Services
We'll Be There to Support You After Severe Weather, Catastrophes, and More
ServiceMaster Recovery Management (SRM) supports commercial property owners, managers, and communities in the aftermath of severe weather events. Whether you're dealing with windstorms, hurricanes, or flooding, our team has the resources and equipment to respond rapidly to your situation and begin recovery. For commercial properties, downtime can cause significant harm to a business and result in additional damages in the form of lost revenue.
Trust SRM, the industry leader, to get your business up and running again. With our proven processes, techniques, and cutting-edge technology, we can restore your property quickly and safely. At SRM, we recognize property damage and revenue loss can overwhelm many businesses. That's why our team will work closely with you to develop a tailored commercial restoration plan that addresses your unique needs and enables you to overcome these obstacles efficiently and effectively.
Taking action quickly is essential if your business has suffered damage from a recent storm. Contact our team of experts today to schedule an assessment of the storm damage to your business
Hurricane Recovery services
Hurricanes are one of Canada's most destructive weather events, causing billions of dollars in damages. These storms can cause wind damage, flooding, and structural failures and knock out infrastructure such as power and fuel, making recovery even more difficult. We are fully prepared for the most powerful and destructive storms at ServiceMaster Recovery Management. With extensive experience in helping commercial properties recover from hurricanes such as Dorian and Fiona, our team has the skills and expertise to handle storm damage.
ServiceMaster Recovery Management is a comprehensive storm damage restoration and natural disaster cleanup company that has been helping businesses and homeowners recover from catastrophic events for decades. We provide fast, reliable, comprehensive services, including water extraction, structural drying, mould remediation, and content cleaning. Our experienced technicians are available 24/7 to respond to storm damage and natural disaster calls.
ServiceMaster Recovery Management provides storm damage restoration services near you, regardless of location. Our technicians are well-trained and certified in the latest technologies, enabling us to assess the situation and develop a customized plan to restore your property. We understand that every situation is unique and requires a personalized approach. We are committed to providing the highest quality service to restore your property to pre-loss condition. Our team is dedicated to helping people in their time of need, and we are passionate about providing the best service possible.
At SRM, we have experience handling hurricanes of all sizes and have helped facilities of nearly every type recover. This is crucial because each property is different and requires a unique approach. Restoring an office complex is different from restoring a school or hospital, and our team has expertise in each of these industries. We are your partner in quickly getting your business back to normal without sacrificing quality.
TO LEARN MORE ABOUT OUR STORM DAMAGE RECOVERY SERVICES, CALL US AT (855) 642-2444.
Helping People
Like You Get Back
to Business
"Excellent response time. Staff was very helpful and listened to our concerns and addressed and answered questions."

- Richard Thompson, Property and Facilities Manager, City of Ottawa

"The administrative staff and the clean up team were absolutely phenomenal.
they were knowledgeable, friendly and fast. Helped is out a very nasty situation, quickly and they left the room in a better state then it was before."

- Lena Sborlini, Property Manager Administrator, Compten Management Ltd.

"

For over three years, I have relied upon Service Master for almost every emergency that has occurred in our retail branch network of over 1000 locations, across Canada.

Whether it be a flood, fire, vehicle impact or any other threat to the safety "

- Saul Jacob, Project Manager, The Bank of Nova Scotia
See More Testimonials
Expertise That's Always There For You
Tornado Recovery Services
Tornadoes are common in Canada, particularly in southern Alberta, Manitoba, Saskatchewan, southern Ontario and Quebec. However, no matter where you are located, the team at ServiceMaster Recovery Management is fully equipped and prepared to assist you with tornado damage cleanup and restoration. When dealing with the aftermath of a tornado, it takes various specialized skills to restore your property to its pre-loss condition. This includes everything from tree and debris removal to water mitigation, tarping and board up, construction, and more.
At SRM, we have the expertise and established relationships with vendors and contractors to handle every aspect of the restoration process from start to finish. With a dedicated account manager and on-site project manager, we will work with you to ensure your recovery goes as smoothly as possible.
Safeguard your assets from unexpected disasters with SRM's restoration management services. Initiate with us today.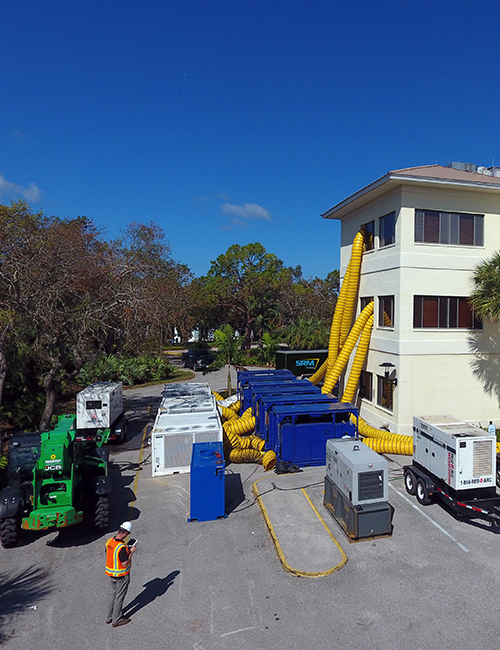 Effective Communication Is Crucial for Successful Recovery Management
Restoring a property to its pre-loss state is a complex and multi-faceted process that requires meticulous attention to detail. At SRM, we recognize that communication is key to ensuring a successful restoration. We take pride in providing clear and concise communication with all stakeholders throughout the entire process, from the initial assessment to the final walkthrough.
Our team is available 24/7/365 to respond to your call for help, and we will work tirelessly to get your property back to its pre-loss condition as quickly and safely as possible. After the danger has passed, simply give us a call and we will dispatch a team to assess the damage and start the restoration process.
Ready to report a loss? Give us a call today at (855) 642-2444.