Government Facilities
Pre-Loss Planning & Commercial Damage Restoration
When a storm or other disaster affects a government building, it is crucial for the community it serves to know that it will be operational again as soon as possible. At ServiceMaster Recovery Management (SRM), we can restore your government facility quickly and efficiently to its pre-loss condition. Our commercial disaster restoration and pre-loss planning services are designed to help you prepare for unexpected events. As a GSA-approved business, we are committed to helping you maintain your facility's operations.
SRM has provided recovery management services to various properties, including city halls, courthouses, banks, prisons, post offices, police and fire stations, and government offices. Government buildings play an essential role in their communities, so having a partner who can assist you in preparing for and responding to disasters is crucial to minimize downtime and ensure seamless public services. Our project managers have extensive experience with these properties and will work closely with you to understand your unique requirements so that we can respond appropriately.
Always Compliant
At SRM, we always comply with all federal rules and regulations when planning or helping you recover from a disaster. We understand the sensitive nature of the information in many of these properties. Our team is trained and educated on restoring documents, electronics, and sensitive records while maintaining privacy and security. If security clearances are required, our team will take the necessary measures to obtain permission and undergo background checks to avoid delays when working on your property.
To learn more about our commercial damage restoration services for government facilities, Don't hesitate to contact us at (855) 642-2444.
Ready When
Disaster Strikes
Why SRM
OUR ASSESSMENT OF DAMAGE AFTER A DISASTER
After a storm or other disaster strikes your property, the most efficient way to save time and money is to respond immediately and decisively. SRM's comprehensive assessments utilize advanced tools and state-of-the-art technology, including drones, 360° cameras, and infrared moisture mapping. Our team can quickly determine the full scope of your needs and get right to work, detecting hard-to-find damage to ensure that every problem is addressed. Having a complete picture upfront prevents future issues from arising and causing delays in the recovery process. Using actual data and specialized equipment, SRM helps open your doors as soon as possible.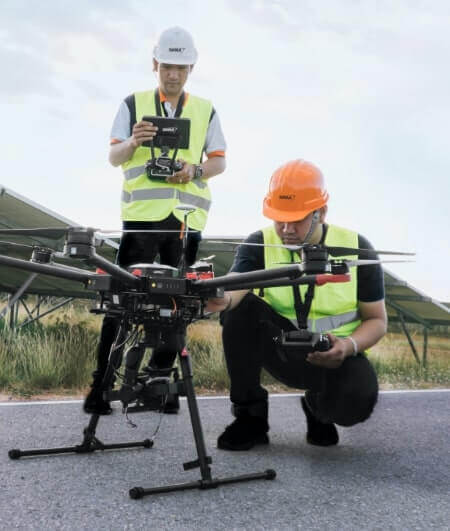 WE'RE ALWAY'S READY
At SRM, we have seen it all over the years. We have helped communities recover from the most destructive hurricanes and have assisted small businesses with smaller-scale problems. When you partner with SRM, your government property will have the most experienced and dedicated team helping it always stay open and operational.
Our recovery management services include global recovery solutions, natural disaster recovery, building stabilization, pre-loss planning, content restoration, and emergency response. We can assist you after fires, floods, storms, and countless other events you may face. We understand that no two disasters are the same, and every government property has unique needs and requirements. SRM will always respond appropriately and confidently.
Learn more about our Post-Storm Damage Assessment and then reach out to SRM at (855) 642-2444 to get started.