A business continuity plan will prepare you and your employees for a variety of possible disasters. This plan involves developing preventative and recovery strategies, so you know precisely what to do to get back to business as quickly as possible.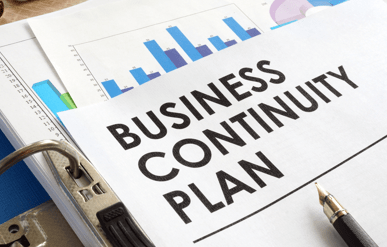 Disruptions to your business can come out of nowhere. If a disaster does strike, having a plan in place to keep business as usual can reduce your risk of permanently closing your doors. According to the Federal Emergency Management Agency (FEMA), 40-60 percent of small businesses never reopen their doors after a disaster.
To draft an effective business continuity plan, your focus should be on ensuring that your staff and resources are protected and able to function if a serious event threatens your operations.
Follow These Steps to Create Your Business Disaster Restoration Plan:
1. DESIGNATE A TEAM. Before you begin creating a business recovery plan, put together a preparedness and response planning team to help you strategize. Make sure each member understands his or her responsibilities if an unexpected event happens. Work together to identify what processes and assets would need to be maintained for your business to continue running during a catastrophe and formulate realistic recovery strategies.
2. ASSESS THREATS. Identify all potential threats to your business, including natural disasters like fires, floods, earthquakes, and hurricanes. While the likelihood of a major natural disaster occurring may be rare, there might be plenty of other threats that could wreak havoc on your business such as a power outage, data breach or equipment malfunction. Make a list of every threat so you can create a preparedness plan for each.
3. GATHER CONTACT INFORMATION. Your business plan should include vital contact information. Some people from whom you should collect numbers, addresses and other contact information, include the following:
Staff, including their emergency contacts.

Customers

The business's insurance company

Financial institutions

Reputable disaster restoration companies
After all contact information is documented, write out details about how you can stay in contact with staff both during and after the disaster. That way, everyone is informed about what to do, where to go and any next steps.
4. IDENTIFY ESSENTIAL STAFF AND INVENTORY. Make a list of all your staff. Then, identify which jobs you would consider critical if you suffered a major business interruption. Determine which office equipment each staff member would need to be able to perform his or her work, such as a computer, desk, and phone. Consider additional inventory you'd need for your business, including servers and software.
5. DETERMINE WAYS TO PROTECT AND ACCESS THE COMPANY'S DATA. Keeping your business' important data and sensitive information backed up on a regular basis can help you immensely during a disaster. Store financial records, login credentials, employee records and business emails on a cloud-based platform as well as a reliable external hard drive. That way, you can have quick access to vital business records and information during recovery efforts.
6. DETERMINE AN OFF-SITE LOCATION WHERE STAFF CAN WORK. If you must work remotely following a disaster, it's important that employees know where they should go. Find safe spaces out of which your staff can work and include multiple routes they can take to get there; in case the most common route is blocked off because of disaster.
7. CREATE AN EMERGENCY PREPAREDNESS KIT FOR YOUR OFFICE. This kit should include essentials that can help your staff, customers and business survive a disaster. The emergency preparedness kit for your company should include at least the following items:
Food

Water

Copies of your business continuity plan

Flashlights

Batteries

First aid kits

Tool kits

Battery-powered radios
8. PRACTICE YOUR PLAN. Once you've developed your business recovery plan, practice it with your team. Run regular exercises to determine what works and what doesn't. Make any updates as necessary to keep things running smoothly. With regular practice, your team will feel more confident about what to do if a disaster does strike during work hours. When you feel confident that your business continuity plan will work, hand out copies of the plan to all staff members that they can review as needed.
With the right business continuity plan in place, your business is more likely to survive a disaster and reopen its doors. If you need help creating your own business recovery plan, call the professionals at ServiceMaster Recovery Management. With our Pre-Disaster Program, we can work with you to create a unique plan that includes the best action items your company should take if the unexpected hits your area. Learn more about our Pre-disaster Program and start your business continuity planning today. Contact ServiceMaster Recovery Management to get started.