If a fire breaks out in your business, acting fast to put out the flames could save you from costly damage and loss. That's why commercial fire sprinkler systems are so important.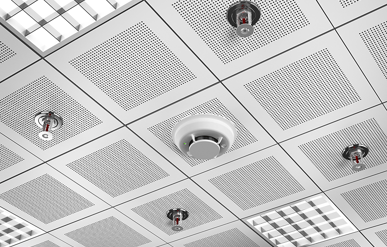 Although sprinkler systems can protect you, your staff, your customers and your business from harm, myths about fire sprinklers still exist. Find out the truth about these crucial systems with help from ServiceMaster Restore so you can add these life-saving devices to your company's fire safety plan.
MYTH: WATER DAMAGE CAUSED BY FIRE SPRINKLERS IS MORE COSTLY THAN FIRE DAMAGE.
FACT: According to the Federal Emergency Management Agency (FEMA), sprinkler systems are actually more cost-effective than damage caused by other firefighting efforts. Since sprinklers can keep a fire contained within one room rather than allowing the flames and smoke to spread throughout the building, most fire damage clean-up will only occur in one space. Furthermore, water damage from fire hoses is typically more expensive to repair. Quick-response sprinklers only release 8 to 24 gallons of water per minute, whereas fire hoses release 50 to 125 gallons per minute.
MYTH: IF ONE FIRE SPRINKLER IS TRIGGERED, ALL FIRE SPRINKLERS WILL GO OFF.
FACT: When one sprinkler in your commercial sprinkler system goes off, only the adjacent sprinklers that sense high levels of heat will activate. According to FEMA, this means that only one or two sprinkler heads will go off in the event of a fire.
MYTH: SPRINKLERS ARE OVERLY SENSITIVE.
FACT: Fire sprinklers only ever activate when high heat is detected, so an employee burning their lunch or taking a smoke break too close to the building will not set off the sprinkler system. According to FEMA, only 1 in 16 million sprinkler heads activate accidentally, making their benefits far outweigh any risks.
As a business owner, safety and protection are important to keeping operations going smoothly. To help keep your company safe from any potential fire damage, install commercial sprinklers and place fire extinguishers throughout your facility.
If the unexpected does happen, know that you're not alone. ServiceMaster Restore is committed to being by your side every step of the way to get your business on its feet as quickly as possible. Use our fire and smoke damage clean-up services and our water damage clean-up services to get your doors back open fast.