Water is one of the most common causes of damage to residential areas and commercial facilities, primarily because there are quite a few ways in which it can affect a property. Any infrastructure experiencing water damage or excessive moisture can become infested with extensive mold, which can prove to be very problematic once it starts actively growing. It takes as little as 48 hours for mold to spread quickly through a home, or commercial property and produce irritants. After natural disasters such as hurricanes, tropical storms, tornadoes, and floods, excess moisture and standing water contribute to the increased growth of mold in homes and other buildings.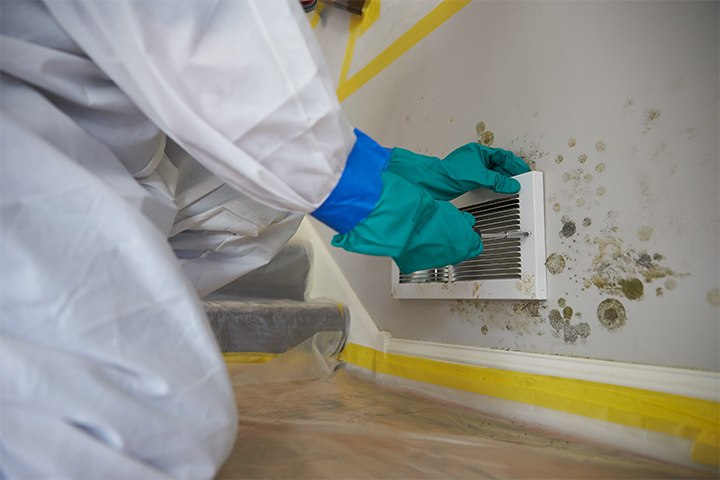 Flooding is always a major concern in communities susceptible to hurricane damage. Residents who live nationwide customarily report indoor mold outbreaks after a major hurricane passes. The heat and wet debris provide a natural breeding ground for mold. Performing mold remediation early prevents this hazard from spreading. Yet anything short of total removal, and the mold will revive and spread again.

If you find mold in your home or business, it's important to get it removed as quickly as possible. Not only is mold unsightly and unsanitary, but it can also have a significant impact on the air quality of your living and/or working space. Whether we're talking about the employees working in your building, or your family living in your home, left unchecked, mold growth can cause chronic health issues. Mold can grow on any damp surface, including wood, wallpaper, upholstery, paper, cardboard, paints, insulation material, drywall, and ceilings. And if left unchecked, it can not only affect the structure of your property, but could also lower the quality of life for the individuals who inhabit it.

When mold settles in and begins to multiply, some of its spores become airborne. In small quantities, they are not harmful, but when they find a space that supports good growth, the spore attaches to a surface and starts to propagate. As the colony expands, spores at the edges break off and return to the air. The fungus enters your body through your lungs. A serious mold invasion will affect air quality and could eventually cause health problems for any individuals exposed. Some common health problems caused by mold infestation include skin irritation, breathing difficulties, headaches, increased allergies, aggravation of asthma, chronic sinus problems, fungal infections, and many more.

Mold spores exist everywhere in the environment, so mold can start developing as soon as the right conditions are present. Mold grows and thrives in wet and moist areas inside any structure. If your home or business experiences water damage, mold growth is often not far behind. Luckily, our water damage restoration technicians thoroughly check for signs of mold, mildew, and other bacterial growth when they perform water removal and restoration services for you.

An accident or disaster can leave multiple levels of damage, and it's important that you call a restoration company with the capacity to properly handle the situation as soon as possible to mitigate the commercial property or home quickly and avoid additional damage. Prompt and efficient water removal is extremely important to prevent water from severely damaging floors, carpeting, upholstery, documents, electronics and more, as well as closing the door on potential mold growth. Hurricanes can be especially dangerous due to the fact that they bring multiple types of potential damage including wind damage, water damage, flooding and even structural failures. In addition, infrastructure such as power and fuel become very scarce making recovery more difficult. This is why a company such as ServiceMaster Recovery Management is a perfect choice, we have an extensive background not just in mold removal services, but in a variety of restoration needs that come along with catastrophic events, such as hurricanes.

The growth of mold on houses and other structures following a hurricane has been well documented. After Hurricane Katrina, the CDC found visible mold growth in 46% of surveyed houses, and this study likely underestimates the severity of mold growth, as the areas hit hardest by the hurricane were inaccessible.

According to a CNBC Survey, 40% of businesses never reopen after a disaster. The impacts of the property and revenue loss are simply too much for many businesses to endure. This is why we here at SRM have made it our mission to develop the most effective commercial restoration program possible to help clients and communities get back to business quickly.

We have seen thousands of commercial floods so you can rest assured our experience is second to none. From Super Storm Sandy and Hurricane Katrina to more recent Hurricanes Harvey and Florence, we have completed all types of restorations including some of the most complex projects we have ever seen.

After Hurricane Katrina in 2005, many New Orleans homes remained flooded for weeks and people often returned to find rooms covered in mold. It would be difficult to overlook the fact that New Orleans was most recently struck again by Hurricane Ida, exactly 16 years after Katrina. Louisiana is no stranger to the devastation that inclement weather can have on residential areas and businesses. Many of their communities have faced the direct damage of these hurricanes, as well as the lingering effects of flooding, power outages, and many more obstacles, one of which being the battle with mold. Following the recent aftermath of Hurricane Ida, multiple communities in New Orleans are preparing or already in the middle of fighting that battle.

It is imperative to stop the growth of mold in your home or business as early as possible. This is where the services of SRM fit in. Over the years, we have seen how severely hurricanes, tropical storms, tornadoes, and flooding can damage residential areas and commercial properties. As mold remediation specialists, we can help protect your home, or property from all kinds of mold damage. By leveraging advanced equipment and material, we are able to detect the source and type of the mold, isolate it, and easily remove it in a convenient way. Our services don't end with just mold removal, we thoroughly disinfect, sanitize, deodorize, and purify the infected area as well to prevent future mold growth. With our decades of experience with mold removal service for homes and businesses, you won't find a more thorough and efficient mold removal team.

Our mold removal staff members are Indoor Air Quality Association (IAQA) Certified Mold Remediators. This means that the ServiceMaster team has received extensive training in microbiological contaminants and removal techniques. Therefore, hiring a mold specialist is critical in order to prevent hassle and ensure effective results. Our mold specialists meet our clients in person to discuss the right strategy for mold remediation. With extensive years of expertise in this field, they understand how to deal with various types of molds in an effective way. Quickly preventing further growth of the mold will not only reduce future cost but will also prevent those in your homes or businesses from falling sick.

We can help minimize the damage and financial impact to your business or home caused by a flood, or hurricane. As the water rises, so do the damages. You need an experienced team with the resources to effectively respond. To save you time, money and stress, we can handle all aspects of your restoration process including; mitigation, property security and stabilization, contents restoration, reconstruction and any other service required for a fast, successful flood restoration.

Many people are not keen on the idea of hiring a mold cleaning service and think they can clean it themselves. However, mold removal needs professional chemicals, training, and equipment in order to treat the space effectively. In fact, treating mold using household chemicals can actually cause the mold to spread more rapidly and even increase the cost, when not done properly or when the area is too large to manage on a small scale.
To keep costs lower and prevent having to pay out large sums at once, as a business you need to consider having a good mold prevention program. Businesses often try to save money by cutting or reducing mold prevention programs. If this is the case with your company, it may be wise to look at how much it costs to hire a mold remediation company to clean out an infected building as compared to prevention costs.

Most molds thrive in dark and wet environments. Whether you are looking at breaking ground on a new building or repurposing an old commercial space, keep these design tips in mind to avoid building a breeding place for disease-causing molds. Mold loves to live in dark, confined areas. This also applies to extremely tiny places. Mold spores more easily adhere to rough materials like fabrics and rough plasters. If a building material is full of texture and cracks, the spores have an easier time attaching to the surface. This is one of the reasons that glazed tiles are so popular in bathrooms and kitchens. Any mold spores that drop onto the floor or walls are simply wiped up during routine cleaning.

Avoid using carpeting in basements or underground units that have concrete floors and high humidity levels. Area rugs can be removed for cleaning and returned once they are dry. Avoid steam cleaning rugs or carpets where they lie, because if mold gets into the wall-to-wall, your steam cleaner will simply accelerate the growth. At that point, the only way to kill the mold entirely would be to replace the carpet or rugs.

Whether you suspect mold, or just want to get ahead of it by starting the course of prevention, you need to contact a restoration company with experience in mold remediation, that the community can trust to provide the services you need. SRM is that company.