Water damage to commercial property can devastate a business in any sector. Commercial property is typically the most significant asset for many business owners. Therefore, the costly and time-consuming recovery from commercial water damage can substantially interrupt business operations and revenue loss.
Not only can water devastation cause significant structural damage to commercial property, but the aftermath of flooding or other types of water invasion can also include electrical fires, hazardous mould growth, and health risks due to biohazards in the water.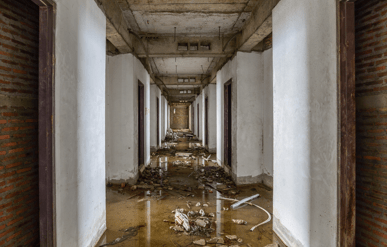 Every commercial building has a unique structure, but all can be at risk for water damage. While there are many measures you can take to prevent water emergencies at your property, unforeseen events such as frozen or burst pipes, backed-up sewage lines, or flooding cannot be avoided. To protect your facility, the water damage restoration experts at ServiceMaster Recovery Management suggest familiarizing yourself with the following seven facts.
1. Preventative Maintenance Can Lessen the Chances of Water Damage. Schedule regular professional maintenance inspections of your building throughout the year. The most common areas vulnerable to leaks and other water intrusion include the roof, gutters, plumbing lines, and drains.
2. There Are Three Different Types of Water Contamination. The proper methods for safe clean-up associated with commercial water damage vary according to the type of water contamination. There are three different types of water contamination: white water, gray water, and black water, depending on the source of the water. For this reason, water extraction, clean-up and restoration should only be conducted by trained professionals.
3. Minor Leaks Can Lead to Major Problems. Even small roof leaks or minor plumbing malfunctions can significantly damage a commercial building. If left unchecked, what may initially appear to be small leaks can escalate and cause extensive water damage to your property. Remember that if you fail to maintain the plumbing in your facility correctly, your insurance company may not cover water damage costs associated with normal wear and tear.
4. Fast Action Is Crucial. If not taken care of immediately, excess water in your commercial property can lead to long-term and costly damage to your building's structure, including hazardous mould growth. An experienced restoration company such as ServiceMaster Recovery Management has the expertise and resources to quickly reduce the amount of water damage resulting from a significant leak, flood, or other water emergency. Professional water extraction and drying will ensure that hidden moisture underneath the flooring or walls is appropriately removed.
5. Different Materials Require Different Cleaning Protocols. When water damages your commercial property, the same restoration process cannot be used for all building materials. Some materials, such as concrete and hard surfaces, may be salvageable, while others, such as ceiling tiles, drywall and cellulose insulation, may need to be discarded entirely.
6. Mould Grows Quickly. Even after the excess water is removed from your property after an invasive water event, moisture and humidity can accumulate in the walls, ceiling and floors. Under these conditions, mould can begin to grow in as little as 24 to 48 hours. Therefore, it is crucial to have a mould prevention specialist inspect your building to ensure mould is not spreading throughout your property.
7. Your Insurance May Not Cover All Types of Water Damage. Familiarize yourself with your specific insurance policy to ensure ample coverage for water damage to your commercial property. Some insurance policies cover unforeseen water emergencies, such as a burst pipe, but some exclusions may apply. Typically, a standard insurance policy does not cover flood damage; therefore, you may need to purchase separate flood insurance coverage, mainly if you live in a location prone to flooding. Call your insurance company when water damage occurs, so your agent can begin filing a claim.
Call The Experts at ServiceMaster Recovery Management. If a water emergency or disaster strikes your commercial property, contact the professionals at ServiceMaster Recovery Management. We have the experience, expertise and resources to manage all the complexities of water damage restoration. Our trained and knowledgeable restoration specialists are ready to help get your business back to normal as soon as possible. Available 24/7, every day of the year, we are committed to restoring your facility as quickly as possible. Contact us today to learn more about our water damage restoration services.