A backed-up, overflowing toilet or sink can be distressing enough for any commercial property owner or business, but when sewage is involved, it can turn into a potentially hazardous clean-up situation.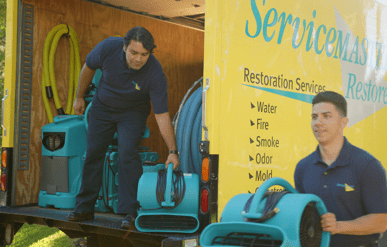 Use this guide from the experts at ServiceMaster Restore to learn what you should do immediately if a sewer backup should occur at your business, plus tips on how you can prevent it from happening again.
WHAT TO DO IF YOU HAVE SEWAGE BACKUP
Cleaning sewage backup can be extremely hazardous to the health of the cleaner and others who enter the property. This is why sewage backup cleaning should only be done by qualified and experienced professionals. If there are signs of sewage backup at your commercial property, call an experienced water damage restoration company immediately, so the cleanup can be done properly and professionally, and you can get back to business as soon as possible.
Water damage restoration experts know how to avoid health risks while safely removing biohazards. A properly trained and professional cleaning crew can effectively handle the following sewage clean-up tasks:
Remove all items that have been damaged due to the sewage backup
Properly discard items that cannot be salvaged
Properly disinfect saved materials off-site
Remove all water and sewage with specialty equipment
Dehumidify affected areas
Ventilate dangerous fumes and airborne particles
Disinfect flooring and surfaces within the  contaminated area
COMMON CAUSES OF SEWER BACKUP PROBLEMS
Sewage backup problems can be difficult to remedy, but knowing the root cause of the issue can help prevent them from happening again. Some of the most common reasons why commercial buildings experience sewer backup include:
Soil settlement in and around the building, putting stress on the plumbing and sewer system
Cracked pipes or misaligned connections and joints in the plumbing system
Infiltration of pipes and plumbing from tree roots
Grease build-up and improper flushing habits in the building
Irregular cleaning and maintenance, especially in high-volume commercial settings where maintenance is crucial
HOW TO PREVENT SEWER BACKUPS AT YOUR BUSINESS
Contaminated water and sewage issues in your commercial building can be a serious health hazard and cause costly interruption to your business activities, but a few preventative maintenance tasks can prevent them from occurring. Follow these guidelines to reduce the risk of sewage contamination at your business:
Have your sewer and plumbing systems inspected at least annually
Use a water-pressure reducing valve to limit stress on your building's system
Add pop-up sewer release valves if your plumbing system does not already have them
Dealing with sewage cleanup is a difficult job and should be left to the experts. If your property is not properly cleaned and disinfected, it can pose a serious health hazard to employees and customers who enter your building. To help keep everyone safe, call the professionals at ServiceMaster Restore. Our sewage backup clean-up services include deep cleaning to eliminate biohazards and bacteria from items exposed to contamination, and restoring your business to a fully sanitized work environment. With over 65 years experience and expertise in the water damage restoration industry, our professionals can help get you back to business… fast.